Friday, June 01, 2018:
Rick Caylor from Rick's Satellite joins The Power Hour today to discuss his satellite systems and why they are a great option for anyone who listens to The Power Hour.
Website: www.rickssatelliteusa.com
Phone: 816-228-1801
GLOBAL STAR SATELLITE SYSTEMS Featuring: The Power Hour, GCN, World Wide First Amendment Radio, Scriptures For America, and many more.
**Please remember to vote with your dollars and supportRick's Satellite so we can continue to spread the truth.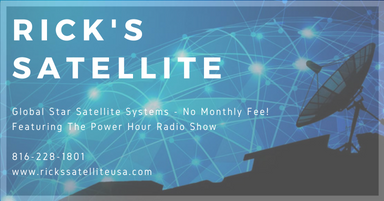 Author Sharon Lynn Wyeth returns to TPH to interpret names (decoding letters)to find out their true meanings using Neimology science. What does your name say about you?
Websites:
www.KnowTheName.com – about the book, author and media appearances
www.BestNameMeanings.com – about names
Sharon's Books:
Know the Name, Know the Spirit
Know the Name: Know the Person
** To call the show and get a reading from Sharon please call 866-582-9933 or email support@powerhournation.com before the show.
Archives for today's show:
June 01, 2018 (hour 1) – Guest Rick Caylor
June 01, 2018 (hour 2) – Guest Sharon Lynn Wyeth