Wednesday, May 30, 2018:
Joining today to discuss healthcare reform  is outspoken critic of Obamacare, Dr. Elaina George. Dr. George is the author of the book "Big Medicine: The Cost of Corporate Control and How Doctors and Patients Working Together can Rebuild a Better System".
Websites:
www.drelainageorge.com  – Dr George's Blog, the place to purchase her book "Big Medicine: The Cost Of Corporate Control And How Doctors And Patients Working Together Can Rebuild A Better System".
www.peachtreewellnesscoop.com – Dr. George's clinic
www.Libertyoncall.org (800-714-6993) – In the world of expensive healthcare, Liberty HealthShare exists to provide individuals a choice.
New Blog Post by Dr. George: The Doctor Shortage: Fact or Fiction
The Association of American Medical Colleges in a recent study has projected that there will be a doctor shortage between 42,000 and 120,300 by 2030. This is a stunning number when you break down the fact that the shortage will affect primary care doctors (14,800 – 49,300); specialists (33,800 – 72,700); and surgical sub specialists (20,700 – 30,500). The looming crisis is magnified by the fact that increasing demand from a both a growing and an aging population must be considered.
Owner and CEO of Aquanetics H2o, Allen Gossett, joins the power to discuss a revolutionary product he has developed for water purification called The HYDRO. The system isn't just for the developing world but also disaster relief, outdoors fanatics, and in the case of societal collapse.
**You can purchase your own Hydro backpack by visiting www.thepowermall.com or by calling 877-817-9829
HYDRO BACKPACK SPECIAL OFFER:
10% off PLUS…
FREE Shipping

FREE HydroWash First Aid attachment

1 case FREE biological bacteria tests
Total SAVINGS VALUE of over $300…..
>> ONLY 5 AVAILABLE, you must call Jay at 877-817-9829 to order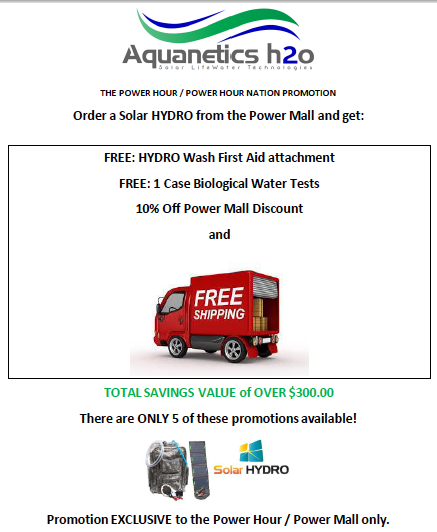 Archives for today's show:
May 30, 2018 (hour 1) – Guest De. Elaina George
May 30, 2018 (hour 1) – Guest Allen Gossett